The Curchin Group's Carolyn Kvalo Earns AICPA Intermediate Employee Benefit Plans Audit Certificate
September 8, 2016
The Curchin Group is continuously expanding its capabilities to provide its growing clientele with comprehensive accounting services. In August 2016, Curchin Partner, Carolyn Kvalo, CPA/CGMA, CFE, passed the American Institute of CPAs (AICPA) Intermediate Employee Benefit Plans Audit Certificate exam, earning a badge for her accomplishment.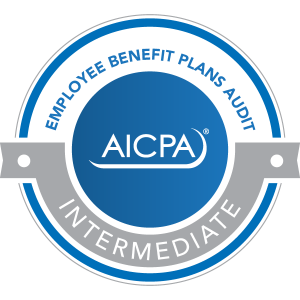 About the AICPA Intermediate Employee Benefit Plans Audit Certificate
The Intermediate Employee Benefit Plans Audit Certificate program is one of the AICPA's latest initiatives to help auditors demonstrate their ability to apply the core concepts and principles related to high-quality audits of employee benefit plans excepted by the Department of Labor, including:
Client acceptance
Engagement planning
Engagement analysis
Concluding an engagement
The intensive exam covers:
Plan types
Administration
Operations
Definitions and tax status
Auditing considerations
Other benefit plan considerations
Financial statement presentation
Disclosures
Regulatory reporting
Concluding the audit
Meet Carolyn
Carolyn joined Curchin in 1988 and became a partner in 2003. With more than 25 years of experience in public accounting, Carolyn has developed an expertise in working with credit unions, employee benefit plans, not-for-profit, and closely-held, small to mid-size businesses. She is the chair of Curchin's Auditing and Accounting Committee.
Carolyn graduated magna cum laude from Villanova University with a Bachelor of Science in Accountancy. A lover of travel and the beach, she enjoys visiting the islands of Hawaii, or Sanibel and Captiva Islands in Florida with her family. Here in Monmouth County, NJ, she can be found strolling the boardwalk at any time of the year. Learn more about Carolyn here.
In Need of a Benefit Plan Audit?
Curchin is among the first accounting firms to have personnel with the AICPA's new employee benefit plan audit qualification. If you are seeking an employee benefit plan audit for your organization, please contact us.
Please contact our team with any additional questions or feedback regarding this topic!
Contact Us