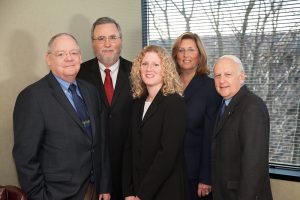 "You always do what's best for the client, and everything else will take care of itself."
— George V. Curchin, CPA, Founding Partner
About Us
The Curchin Group, LLC, is a mid-sized accounting firm that's large on experience. From our roots in Monmouth County, NJ, we have grown and prospered by helping companies achieve their goals for more than half a century. We have in-depth expertise working with small and mid-sized companies, family enterprises, credit unions, construction companies, and non-profits. Clients rely on Curchin for knowledgeable and innovative solutions to meet their needs today and for years to come.
Our clients benefit from our sector experience and personal advisory service. Our expertise helps start-ups mature into multi-million dollar enterprises, family firms to transition to the next generation, and business owners achieve financial success. Clients receive trusted advice about major financial decisions and planning for the future.
Staying Power
Curchin has been a mainstay in Monmouth County since George Curchin founded the firm in 1955. From our original location in Long Branch to our current home in Red Bank, the practice has continued to grow and evolve with the marketplace. In fact, our logo, a navigational buoy, symbolizes the firm's staying power and ability to guide the way in a constantly changing financial environment. George's legacy of providing expert financial advice and outstanding service remains unchanged.
A Breed Apart
The Curchin team stands apart from the pack because:
Building and sustaining long-term relationships with clients is part of our DNA
We are active members of trade and community associations.
We are more than accountants; we become valued advisors
We have a commitment to partner access for each and every client—a rarity in accounting today
We are heavily connected to the communities where we work and live
Solutions
Curchin provides a broad range of financial services. Our portfolio includes:
CONTACT INFORMATION
Robert Fouratt, CPA
Managing Partner
bfouratt@curchin.com
The Curchin Group
200 Schulz Drive, Suite 400
Red Bank, NJ 07701-6745
732.747.0500